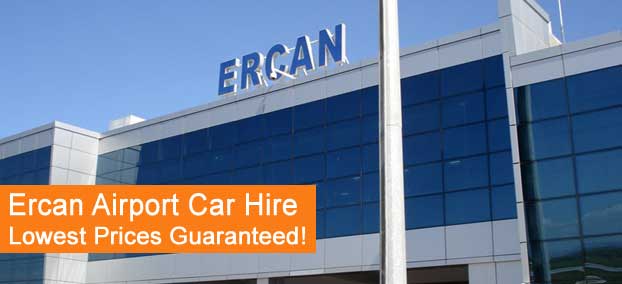 NCyprusCarHire.com offers reliable car hire service in Ercan Airport at affordable prices.
Ercan Airport (ECN) in Nicosia (Lefkosa) is the main arrival point for many travellers to Northern Cyprus. Car rental in Ercan Airport is the best and cheapest way of getting to your accommodation in Kyrenia, Famagusta, Karpaz or in any other location in North Cyprus. No matter what time your plane lands, use our reliable and trouble free Ercan Airport rent car service for a hassle-free car rental experience in North Cyprus.
If you have booked your flights to Ercan and arranged your accommodation but planning to rent a car in Ercan airport then it is advised to book it in advance. Hiring a car at the airport itself after your flight is not possible. There are no car hire offices available at the airport, so why not book it in advance from our cheap and affordable prices. If you book your car with us for minimum 7 days, we provide a free delivery and drop off at the airport. Our representative will meet you on your arrival to give you your car key and then you are ready to go to your holiday accommodation. On your return journey, just park the car at Ercan airport parking and leave the key in the car.
If you're travelling as a family or have a lot of luggage, you may consider our spacious family saloon cars to suit your requirements. Or you may also require transfer with a luxury saloon, don't worry we provide Ercan airport transfer service at affordable prices. Simply contact us with your requirements and our comfortable luxury car will be awaiting your arrival.
We guarantee the best prices for all car rentals. All our prices include unlimited mileage and VAT. Child/baby car seats are available (with a small charge) upon request.
Fuel: We will provide petrol in the car equivalent of 30 GBP so you will have enough to take you to your accommodation or destination. Fuel is non-refundable.
Important information:
Drivers must be at least 25 years old and have a valid driver's license.
For Insurance purposes, all drivers must be over the age of 25.
Please be aware that Northern Cyprus has recently introduced speed cameras along many of the main roads.
Hire cars may not be driven in South Cyprus!
Flights to Ercan Airport
There are regular flights to Ercan airport from the major UK airports and other European countries. There are no direct flights to Ercan airport because of the political situations on the island – all flights are either with a touchdown or change of aircraft requirement in Turkey. This is all done smoothly and conveniently by the airlines.
Ercan airport is located about 40km from Kyrenia, 50 km from Famagusta and 30 km from north Nicosia.
Airlines Flying to Ercan Airport
The airlines flying to Ercan airport are Turkish Airlines, Pegasus Airlines and Atlasjet.
Turkish Airlines: One of the best airlines in Europe. Turkish Airlines provides flights from almost all European airports including London Gatwick, Manchester, Edinburgh, Dublin, Heathrow and Birmingham airports. All Turkish Airlines flights to Ercan are with a requirement of change of aircraft in Istanbul, however most passengers don't mind doing this as Istanbul airport is large and there are lot to do.  
Pegasus Airlines: Turkey's most established private low-cost airline and known for its Stansted flights with a touch down in Turkey but no change of aircraft is required.  
Atlasjet: Newly started to fly from Luton. Atlasjet is an airline based in Istanbul, Turkey.
FAQs about hiring a car in Ercan Airport
How much does it cost to hire a car in Ercan Airport?
On average a hire car in Ercan Airport costs £15 per day.
What is the most popular hire car in Ercan Airport?
Small economy (Hyundai i20 or similar) is the most frequently booked and cheapest hire car type in Ercan Airport.
What is the best way of hiring car in Ercan Airport?
It is recommended to book your hire car in advance before your travel to Ercan Airport. Ensure to take note of contact details for the car hire agency.